Readers- monumental, earth-shattering news this morning.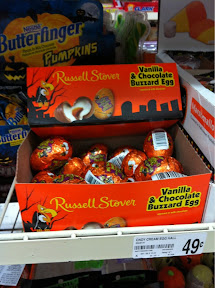 Russel Stover candy company is producing the Cadbury Creme
Eggs normally associated with the Easter holiday.... for Halloween.
I give you
Russel Stover's Buzzard Creme Eggs.
To my knowledge, I haven't seen these before, though I very well may have been oblivious to the fact these existed for years.
Nevertheless, I do believe this is a welcome addition to the canon of Hallowen candy-- whenever it did, indeed, arrive.